"Sutenai Seikatsu" with BOOKOFF ( donation program )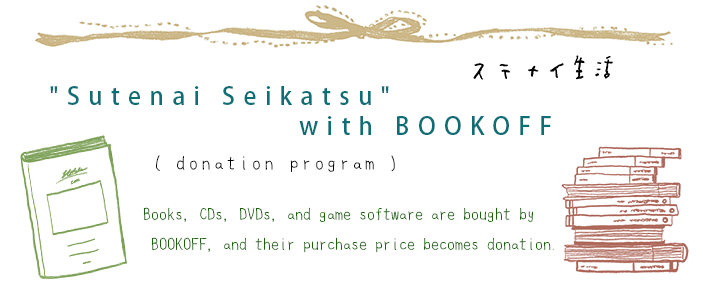 Books, CDs, DVDs, video games and toys are bought by BOOKOFF, a second hand bookstore, and their purchase price becomes donation. Donation is used for our work in international cooperation.
Apply for a FREE pickup option now through phone or "Apply for a free pickup" button*. This service is only available (1) anywhere in Japan, except Okinawa prefecture and (2) for a pickup with more than one item or a collection of any items (can be a combination of CDs, DVDs, books,toys in a good condition etc) packed and sealed in a cardboard box ready for a pickup .
*The free pick up website is only available in Japanese. Please feel free to contact us via phone or email anytime for any assistance with our donation program if needed.
What you can do with your books, CDs, DVDs, video games and toys.
With 10 books or comic books (about 400 yen)

Allows one class to operate, where girls working as domestic workers can learn how to read and write (Bangladesh)

With 15 game software (about 1,500 yen)

Provides ingredients for cooking lessons for girls working as domestic workers. (Bangladesh).

With 40 CDs (about 3,000 yen)

Pays for sewing machine training for one month for one person who has a disability, such as hearing (Bangladesh).

With 20 DVDs (about 10,000 yen)

Pays the one month's rent for support center room for girl domestic workers to study and spend their time with other girls (Bangladesh).
---
What kind of books, CDs, DVDs and video games can you contribute?
Books
comics
pocket editions (postcard size, including how-to books)
paperback pocket editions (about 17×11cm size, including harlequins)
reference books and dictionaries (published within 3 years)
children's books
photograph collections
deluxe editions (art books etc.)
strategy guide for videogames
quarterly and monthly magazines
CD
* We do not accept 8cm-size singles.
DVDs/Blu-rays
Video Games/Game consoles
Sony Play Station (PS)
Sony Play Station2 (PS2)
Sony Play Station3 (PS3)
Sony Play Station Portable (PSP)
Nintendo DS
Nintendo Wii
Nintendo Gameboy Advance
Microsoft Xbox etc.
* We do not accept PC games.
---
How to apply
You can apply on our website, TEL (03-3202-7863) or FAX (03-3202-4593).
Pick up date
Time (9:00-13:00, 13:00-15:00, 15:00-18:00, 18:00-20:00)
Number of boxes
Name
Postcode and address
Telephone number
Attention:
* If you would like to contribute a few goods, please send them to our office (We would kindly ask for the senders to pay postage at time of mailing.)

2-3-1, Nishi-waseda, Shinjuku-ku, Tokyo
P.O.169-8611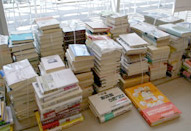 Inquiries for "Sutenai Setikatsu"
Shapla Neer Tokyo office
TEL: 03-3202-7863 FAX: 03-3202-4593
E-mail: sutenai@shaplaneer.org