In Bagerhat District, we have been working with the youth and farmers for rehabilitation from cyclones, and placing disaster measures.
In addition, we will now work with local schools and government to include disaster preparedness in the school curriculum. Starting with children who learned about protection against disaster, we will extend our disaster preparedness work to local communities.
Quick recovery from cyclone disaster, and building communities with awareness toward disaster preparedness
Southkhali Village in Sarankhola Thana, Bagerhat District, was one of the hardest hit areas by Cyclone Sidr in November,2007. Until then, there were no disaster drills or education to prepare for cyclones.
How do we achieve our mission?
Initiatives in schools towards youths
In Junior Secondary Schools, we have debates (student forums) related to disaster prevention and cyclone preparedness.
We will make education materials for disaster prevention, meet with schools teachers at all levels to exchange ideas, and to pave the road so students can learn what is necessary to prepare for a disaster.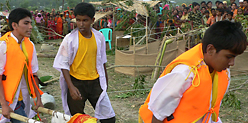 Initiatives towards government
We disseminate newsletters biannually to related government officials and local leaders, giving them information about disaster preparedness activities and risks when prevention measures are not in place.
Also, we will raise awareness toward the current situation by meeting with reporters for local newspapers and television stations.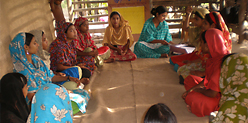 Infrastructure development
We provide embankments on 14 new ponds, and start management committees for pond sand filter equipment in each region.
We will maintain and manage toilets and wells at cyclone shelters with the local government.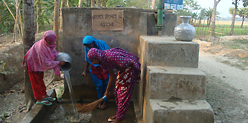 Final Evaluation Report
MOHORA_Final_Evaluation_Report.pdf
Our Partner Organizations
Name of the organization
Jagrata Juba Shangha (JJS)
Region
Southkhali Union in Sarankhola Upazila in Bagerhat District
Annual budget /
Number of staffs
about 4,860,000yen / 14
Beneficiaries
2,200 (26,000, including indirect ones)
Summary of the organization