Shapla Neer's fair trade started in 1974, as part of rehabilitation work for villages that were hit by flooding. It was part of our village development project aimed for women, who have very little opportunity to work outside the home for income.
Utilizing traditional techniques already existent to make articles of every day use
In Poyla village (located 80 km northwest of the capital city, Dhaka), after the devastating flood, the villagers faced extreme hardship. With the flooding, agricultural land was wasted, yet there was no money for transportation to go to work in the city, and on top of it all, prices for goods went up. This is 1974, soon after Shapla Neer started working in Bangladesh.
Then, what got started was "Jute Handicrafts Production Cooperative for Women". In a situation where men's work was limited, handicraft production using techniques to make traditional jute articles was started as a way for women to work and earn income. In a Muslim society where women cannot work outside the home, it created an important job opportunity for women.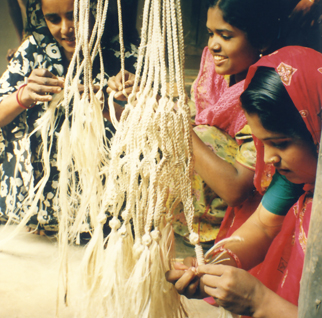 ---
Women igniting their desire to live
When members of the cooperatives started to gain income, there were some village elders who said public morals are being corrupted. However, women who used to walk around bear foot, started wearing sandals when going outside the home. Great change was happening to women who used to be kept at a socially low status.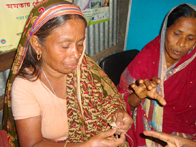 On Dec. 30, 1974, I went to Dhaka to deliver 28 jute mats that we made. However, most of them did not pass quality inspection, so they were returned. We realized how much our abilities were underdeveloped, and looking at the returned products, I remember how all of us at the cooperative cried.Amina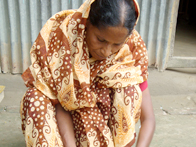 My family was very poor, and both my mother and younger sister worked at the cooperative. Even if we wanted to get education, we had no money to go to school. After starting to work and we received income, we could go to school. If I didn't have this job, I couldn't continue going to school, or marry my husband. I continued school even after marriage, and I even worked as the Adult Literacy Program teacher.Rohima
---
Leading to women's confidence
In Japan, sale of the products made by Bangladeshi women start. Of course, back then, there were no terms such as fair trade, but this was the start of Shapla Neer in fair trade.
Instead of buying products directly from the producers, we now buy from partner organizations that work with the producers. Besides Bangladesh, we now receive products from Nepal. The ways in which we do fair trade have changed greatly. However, we still do this work hoping that each producers' lives are improved, and that our work will lead women to gain confidence.