In order for children of Santals, an indigenous tribal people, to maintain its unique culture while building their ability to coexist in Bangladesh society, we will be involved in youth groups where indigenous culture can be handed down.
Also, we operate Child Development Centers (CDCs) for children who do not speak Bengali as their native tongue, so they do not fall behind in school which is taught in Bengali.
Children of Santals, an indigenous tribe, receive education in public elementary school, just like other children in the region
Children of Santals are shown dislike when they learn with other children, and are teased when they go to school.
Public school teachers do not know much about Santals' lifestyle, and do not give special attention to these children.
The percentage of Santals dropping out of school is much higher than the national average.
How do we achieve our mission?
Supporting the children
For children entering elementary school, in order to get used to classes taught in Bengali, we operate Child Development Centers (CDCs) for entering school. Textbooks, black boards, chalks, and pens used at these centers are provided as well as uniforms and lunches.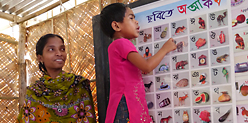 Supporting parents and families
For the parents of children who come to CDCs, seeds and seedlings for kitchen gardens are offered to help support the children's nutrition needs, and tips for vegetable production is also given.
In order to support children's education expenses, economic support is also provided for parents.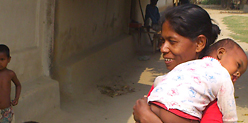 Measures for the schools (teachers)
In order for public elementary teachers to deepen their understanding towards Santals, opportunities to visit CDCs are provided.
International Native Language Day and International Literacy Day are such days for visitation.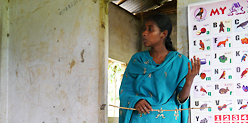 Working with the community
Through cultural exchange by the Santal youth groups, an environment is created where they can feel proud of their culture.
Relationships between education office and School Management Committee, as well as NGOs working on Santal issues can be deepened, raising understanding towards Santals by education related personnel.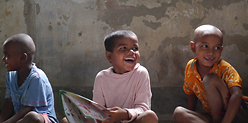 Our Parthner Organization
Name of the organization
Gram Bikash Kendro (GBK)
Region
Chehelgazil, Shundarbon, Fazilpur in Dinajpur district
Annual budget / Number of staffs
about 1,770,000yen / 13
Beneficiaries
343 (2,680, including indirect ones)
Summary of the organization
GBK was established in Dinajpur District in 1993 by young people who had great interest in social problems.
It aims to empower those who are socially and economically disadvantaged people such as women, children and the disabled in order to make them change their society.
It focuses on basic education in supporting indigenous people and works on cultural activities to protect the identity of their own.
Furthermore, it gives high priority to problems of land concession.
Its annual budget is 134.06 million yen and the number of staffs is 533.