Overall goal:
To contribute to reduce the rate of climate change in the context of Khulna city.
Project purpose:To create awareness among the adolescents and empower them to work as agents of change both in the family and in the community for the promotion of an environment-friendly lifestyle.
Today, adolescents are raised in a world where climate change, poverty, pollution, CO2 emissions and loss of biological diversity are major global issues. These issues are discussed by politicians, academics and the media throughout the world. These are also local problems, articulated and used as educational content in schools.
Furthermore, there is a strong movement to educate adolescents to learn how to act in a sustainable way. Sustainable development has become a key issue for the educational system as a whole. It is clear that early adolescent education around the world is attracting a greater interest in education for sustainable development.
Adolescents are the future of a family, a society and a nation. Climate change is seriously impacting our life and livelihood. Ensuring sustainable consumption in daily life can lead to reduce the pollution responsible for the climate change.
Khulna is the third largest metropolitan city of Bangladesh with 334,260 adolescents. The city is now facing serious degradation due to unplanned urbanization, lack of awareness and lack of proper environmental education of city citizens. Peoples' consumption behavior is not environment -friendly. For example, they use a lot of single use plastic bags. Citizens are not conscious about sustainable use of energy and natural resources, and are not aware of the impact of their behavior.
To address this problem, environmental education will act as a pathway. Sustainable consumption education at a young age will motivate those adolescents to develop themselves as an environmentally-friendly generation in the future.
This project targets adolescents and their families in Khulna City Corporation (29 wards), and aims to change their daily consuming behavior. It works on awareness raising, capacity building and mobilizing community to ensure sustainable consumption and avoid climate change effects. The project also organizes sessions with schools, colleges and universities to sensitize them on the issue. It also works on advocacy with various stakeholders to get their support for the initiatives.
How do we achieve our mission?
Adolescents have knowledge on climate change and its local impacts
The project forms adolescent groups and organizes monthly group sessions with them to educate them on climate change and its local impacts. It is developing its own IEC (Information, Education and Communication) materials such as posters, and newsletters to disseminate relevant information. It also motivates adolescents to plan and implement environment-friendly initiatives on their own.
Adolescents and their families practice a sustainable consumption lifestyle
The project forms parents groups and organizes bi-monthly awareness sessions with them. It also motivates adolescents to lead household based climate change adaptation and mitigation campaigns.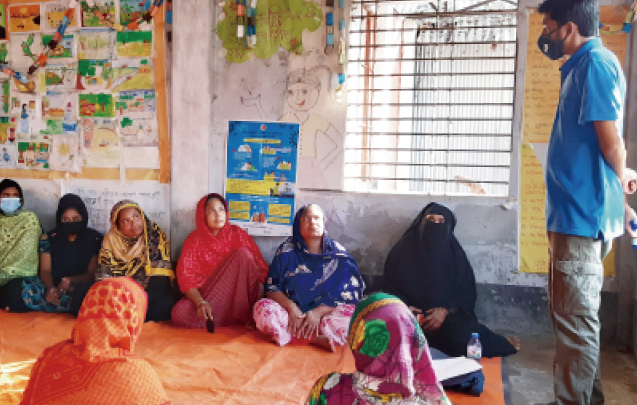 Adolescents and their families practice a sustainable consumption lifestyle
In order to achieve greater impacts, the project tries to involve various stakeholders in the society. For example, it organizes mass awareness raising events on related national/international days, school level awareness raising sessions with students, social media advertisement, and advocacy meetings with relevant stakeholders.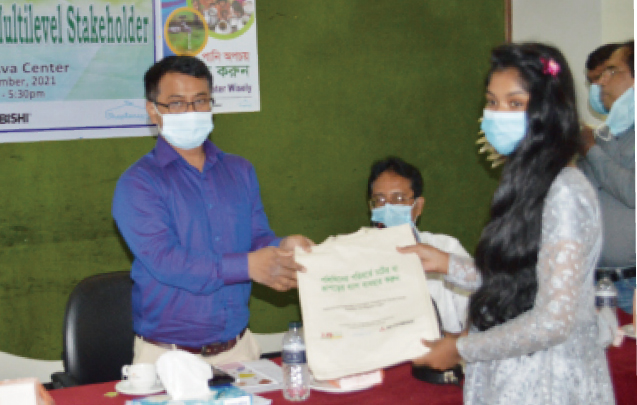 Basic Information
| | |
| --- | --- |
| Project site | Khulna City Corporation area (covering 9 wards of Khulna city corporation) |
| Project duration | November 2020〜October 2023 |
| Number of beneficiaries | Around 1000-1100 |
Our Partner Organization
Name of the organization
Jagrata Juba Shangha (JJS)
Total budget
BDT 172,607,828 (2020-2021)
Number of human resources
1,153  (As of March 2022)
Summary of the organization
JJS is a non-political, non-profitable and Non-government, right based environmental and social development organization. It has been working since 1985 in the South-West coastal region covering both urban and rural areas. It has legal entities from relevant Govt. departments and authorities.

JJS focuses on governance and human rights, climate change adaptation and resilience, disaster risk reduction, WaSH, food security, child rights & child protection and gender mainstreaming & empowerment. JJS works for poor and marginal people, poor occupational groups, women, children, vulnerable women, disaster vulnerable people, children, and with differently abled people.