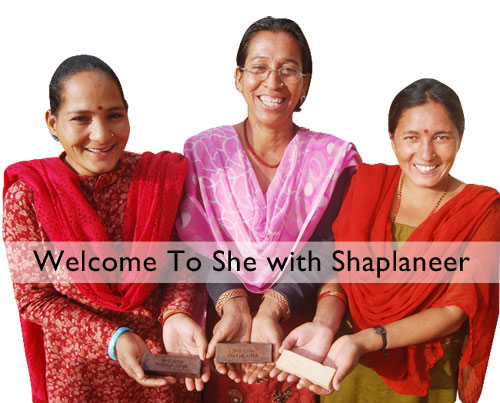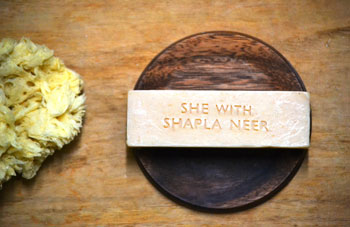 She with Shaplaneer is an ayurvedic soap delivered from Bangladesh and Nepal. Ayurveda has been long practiced in these two countries for thousands of years. Incorporating this recipe, a new skincare hand-made soap has been developed.
Founded in Japan in 1972, Shaplaneer is an international non-governmental organization which aims to improve the living conditions of underprivileged communities in South Asian countries. Based in Bangladesh and Nepal—two of the poorest countries in the world—She with Shaplaneer is a fair trade project that focuses on lifting women from poverty and harsh living situations.
The women who are involved in our ayurvedic soap project come from broken homes or were previously forced to work in prostitution as a last resort for survival. She with Shaplaneer provides these women an opportunity to nurture a new life. Shaplaneer will continue to stand by and closely support the women.
As a core means of providing for their children and family, Shaplaneer's soap project can be defined as their "challenge for survival".
Proceeds from She with Shaplaneer will go toward Shaplaneer's projects aiding women and children in South Asia, as well as Tohoku Earthquake Relief efforts.

She with Shaplaneer focuses on improving the living condition of each individual woman involved in the project. Shaplaneer outreaches to the most remote, poverty-stricken communities in South Asia, where economic development is far dire, and utilizes their native resources to develop sustainable products.

She with Shaplaneer presents two lines of soaps native to the regions Pyutan of Nepal and Mymensingh of Bangladesh.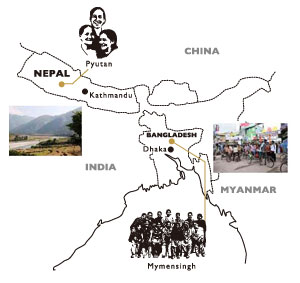 【Mymensingh】
Mymensingh is 120 km from Dhaka, the capital of Bangladesh. Many women are forced to work as sex workers due to their poverty-stricken state. A local NGO introduced the soap production initiative to help these women start a new way of providing for themselves. Named after a poem by Bengali poet Tagore, the Sacred Mark consists of 15 women who pour their heart into the production of ayurvedic soap.
【Pyutan】
Pyutan is a mountainous region in Nepal, two-hour flight or a seven-hour drive from the capital Kathmandu. Because it is a remote region with very few jobs, husbands would go out to work in India and never return, or money sent home would not be enough to sustain a living—thus leaving the women and children in a state of poverty. With the help of aid, such as that from their government, Dolga and three other women produce soaps in Gree Village of Pyutan. Named after a nearby river, the Jimrock Japan Factory holds women who put their heart into creating ayurvedic soap.

MCC

Established in 1920, Canadian-based international NGO MCC is active in 65 countries around the world. While they provide aid in various ways in Bangladesh, MCC supports the operations of Mymensingh's soap production company.

Prokritee is a fair trade organization based in Dhaka, Bangladesh. After becoming independent from MCC in 2001, Prokritee has helped promote soap products from the Mymensingh factory.

Mahaguthi is a fair trade organization established in 1926 by members who have worked with Ghandi. Mahaguthi aids in the soap production program in Pyutan.

MEDEP

MEDEP works with the Nepali government to create jobs that focus on utilizing staple crops farmed in rural agricultural villages. MEDEP collaborates with UNDP to help with skill training at the Pyutan factory.

Established in 1958, JETRO, or the Japan External Trade Organization, is a government-related organization that works to promote mutual trade and investment between Japan and the rest of the world. Our soap program receives the support of Jetro through their develop-and-import project.

Taiyo-Yushi Corporation has been developing and selling environmentally-friendly soap products made from natural oils for the past 70 years. Taiyo-Yushi helps with skill training for our project.

Tokyo-based organization, Sell the Challenge, provides opportunities for handicapped or socially-challenged individuals to create hand-made products. Sell the Challenge has helped establish our She by Shaplaneer brand, product-planning, design, and marketing.

SHAPLA NEER, meaning the 'house of water lilies' in Bengali, is a Japan-based international cooperation non-governmental organization. Shaplaneer's mission is to improve the living conditions of women and children of underprivileged communities in Bangladesh and Nepal. In addition, Shaplaneer runs a fair trade program called 'CraftLink' that helps provide a means of living for workers abroad. She with Shaplaneer is a new initiative born from our 40 years of experience in the international aid field.